More Than Just a Free Newsletter
Become a Tame Your Practice member for FREE and receive our newsletter, special offers, and exclusive members-only content.
eTherapi Listing Therapists Without Permission?
Important Alert for All Mental Health Professionals
Note: The following article presents a series of unfolding events that occurred in 2015, involving eTherapi's listing of therapists in their online directory without permission of the therapists. While the etherapi.com site no longer exists, this article remains in publication in order to chronicle the events, and as a case study in online ethics for mental health professionals and the vendors who purport to support them in their valuable work.
It was brought to my attention through one of Tamara Suttle's wonderful Private Practice From the Inside Out channels, that eTherapi (formerly at eTherapi.com) appears to be listing thousands of therapists without their permission. eTherapi is an online/telehealth therapy service.  Therapists who have never provided online therapy are even reporting that they have found themselves listed on the site. To see if you have been listed, search by your zip code or last name. It's unknown at this time how or why this has happened, but the evidence I have seen suggests that eTherapi is using data pulled from PsychologyToday therapist listings. Further, in some cases the data they are displaying appears to be outdated, apparently pulled from PsychologyToday over three years ago. In other cases, the data is more recent.  In my opinion, the potential ethics and legal issues are quite serious.  In addition to the question of our information being used without permission, what if a client contacts you through eTherapi expecting you to honor the services and rates eTherapi has posted there?
I have made several attempts to contact someone at eTherapi with no success. I expect this is partly because it is the weekend. I will continue to make attempts and let everyone know what I find out. In the meantime, here is some important information should you want to pursue this on your own, if only to request that your own listing be taken down.
eTherapi customer service email – support@etherapi.com
eTherapi customer service phone number – 1-800-611-0821
Information regarding the company that owns the eTherapi brand:
Equanimity
299 South Rngstrff Avenue # 94
Mountain View, CA 94040 – View Map
Phone: (724) 484-3727
Owner? – Farzad Soleimani
According to Manta there is only one employee.   This appears to be inaccurate as at least two different employees have been involved in replying to this situation.  eTherapi further reports that Farzad Soleimani is no longer involved with the company and that the company is owned by a group of shareholders. Prior to privacy being enacted on the domain name listing, however, Farzad was listed as the domain owner.  Based on this, I suspect he is still involved on some level.
eTherapi Social Media
Twitter – https://twitter.com/eTherapi   @eTherapi
Facebook – https://www.facebook.com/eTherapi
Whois listing for the domain etherapi.com including additional contact information for their CEO
https://www.whois.com/whois/etherapi.com
 It's possible that this situation may get more readily resolved by involving Psychology Today, specifically their listing service.  If eTherapi took the data without permission I would think PT would want to address this swiftly.  I've contacted them, but received no response so far.  They can be reached via email at therapist@psychologytoday.com
Update 8/2/2015 – At least two therapists have reported that they were able to get their eTherapi listing taken down by stating they would file a complaint with the California State Attorney General (where the eTherapi company is located).  They were able to get in touch with someone at eTherapi through their web site chat program.  They both reported that the eTherapi representative initially balked at removing the listing, but then agreed to take care of it, once the therapists said they would file a complaint.
Also, I've heard that some are concerned about possible credit card data being breached, assuming that if eTherapi got the data from PT illegally, perhaps they also got credit card data. I believe this to be unlikely. If eTherapi got the data without permission, they likely did so through a process known as "scraping". Scraping refers to taking content from one web site to put it on another, often programatically. It's possible that eTherapi used a program/bot to pull the information from the PT site, in which case they would have had no access to credit card data. Currently, I've seen no evidence to prove exactly how eTherapi got the data, but this seems the most likely scenario.
Update 8/2/2015 – Part 2 – It's confirmed that Psychology Today has reported no connection to eTherapi.  Their email to me (and many others) states, "eTherapi is not affiliated with us and, if it is taking liberties by presuming copyright on profiles, then they are doing so without permission. Our head of operations Charles Frank is working on getting them to remove our information from their site."
I've also learned directly from Jesse Sandoval that he is no longer employed by eTherapi.
Update 8/3/2015 eTherapi has reported they are addressing the issue.  Following is a screen shot of their Facebook post this morning where they acknowledge pulling information from the Internet without therapist permission. Unfortunately, it leaves many questions unanswered. When they did this, did they not think through the potential negative ramifications, especially toward clients?   I've confirmed that a great number of listing have been removed, but encourage everyone impacted to check on their own.
Update 8/21/2015
eTherapi Response
Edoardo "Edo" Croce, "Head of Product" at eTherapi, has been the primary contact/responder to this situation.  After getting in  contact with Edo, I expressed that I'd be happy to include his response/perspective here and would welcome an opportunity to speak to him on the phone to better understand how all of this happened as well as to hear eTherapi's responses to therapists' concerns.  Edo initially responded positively to that idea, however, he has not responded to attempts for further contact.
California Attorney General
Thank you to Michelle at Positive Frame of Mind Counseling for forwarding the response she received from the CA AG.  This gives the impression that they are not concerned about copyright/Internet issues and would only respond if they were convinced there was potential harm to the public. Those still pursuing this issue may need to consider other paths.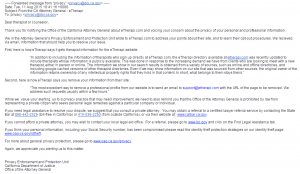 Please contact me if you are able to obtain any explanation or find another channel for reaching someone at eTherapi.
 Related News
Similar articles you might be interested in!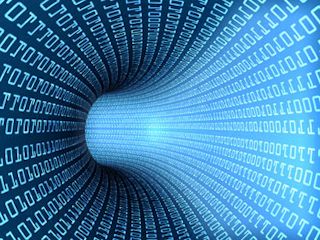 Health Information Exchanges (HIE) are an initiative related to the Affordable Care Act and the HITECH Act. Their purpose is to ease the communication between the EHR/systems of various providers of health care, because the EHRs themselves are behind in doing so (i.e. interoperability).
read more
Rob has been covering technology and business news for mental health professionals since 2011. His extensive experience in IT, business, and private practice allow him to synthesize information in a friendly, digestible manner. He also enjoys time with his family, ultimate frisbee, and board gaming.