More Than Just a Free Newsletter
Become a Tame Your Practice member for FREE and receive our newsletter, special offers, and exclusive members-only content.
Minimizing the Risks of Discussing Clients Online
Avoiding Isolation
Working in private practice, as a mental health professional, can be an isolating experience. Even in a group practice, we may only catch brief glimpses of our colleagues as we spend the vast majority of our time in our office with clients. This can make it challenging to not only engage in social chat, but also to engage in professional behaviors like peer consultation and discussion of referrals. The Internet, and specifically Facebook groups and mailing lists (listservs) have provided welcome forums where we can interact with colleagues when it's convenient for us. This is a wonderful thing!
Ethics and Caveats
This comes with some caveats, however. The most important one, in my opinion, is the need to protect our clients' (and prospective clients') privacy by being mindful about how we address case consultation and referrals online. Specifically, I feel strongly (and most of our codes of ethics agree) that we should be doing so without discussing any client details. While, in some cases, the risk to client privacy might be small, our goals can typically be met another way, that offers little to no risk, and leads to the same outcome. This is accomplished by making the discussions counselor-centric
I've written a number of articles, done presentations (like this one for GoodTherapy), and we've even discussed this topic on the TherapyTech with Rob and Roy podcast (including a great discussion with social media expert Dr. Keely Kolmes). The context and reasons for my advocacy here are too detailed to cover in a single blog post, but I wanted to create a central location for bringing it all together. I strongly encourage you to read and listen to these resources as they go into detail about the risks of discussing clients online. To peak your interest, you might start with this article, where a social worker in England was put on probation for a year for an incident where she provided almost not details, yet someone involved in the court case they were discussing recognized themselves and complained.
Here is a brief summary of the articles presented below:
Reasons to not discuss any client (or prospective client) details online
These points comprise the PIT principle I created:
Permanence – Anything posted on the Internet should be considered permanent and discoverable for the foreseeable future. Your search for a referral or consultation exists in the very small slice of time, but your post will be there forever. Who knows who might see it?
Identity – In the age of technology, it's incredibly difficult (if not impossible) to complete de-identify information (i.e. state it in such a way that there's no chance of identifying the individual being discussed). No matter your effort to use as few details as possible, a friend, family-member, co-worker/boss, or the client themselves may still recognize who it is. Then there is the fact that companies like Google and Facebook have made a business of mining data and selling advertising based on associating traits and behaviors with people.
Transferability – Anything posted on the Internet can be transferred to a new location, multiple times. Emails can be forwarded. Screen shots can capture anything. There is no guarantee that something posted will remain locked in place.
What you can do
Discuss things from a counselor-centric perspective. Your goal with a referral, for example, is to find a good fit for the client. This can be accomplished by seeking out specific things about the therapist, rather than stating specific things about the client. For example,
Instead of:
Looking for a therapist for a 16 year-old female, dealing with anxiety and possible post-traumatic stress related to childhood sexual abuse. Parents are divorced and both re-married. Client is covered under ABC Insurance and needs to see someone close to her home in Raleigh.
Go with this therapist-centric post:
Looking for a therapist in Raleigh, in network with ABC insurance, who works with adolescents and has experience working with anxiety, PTSD, and blended families.
This should accomplish the same goal, without divulging specific details about the client.
I encourage you to read/listen further, by following these links, to fully understand the risks and how to address. And each time you post about a client/prospective client, consider how they would feel if they, or someone they knew, were to see your post and know that it might be seen by anyone.
 Related News
Similar articles you might be interested in!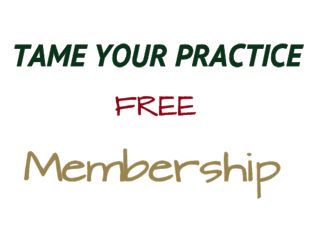 Tame Your Practice membership is free and provides therapists access to exclusive content, discounts, and deals from partners!
read more
Rob has been covering technology and business news for mental health professionals since 2011. His extensive experience in IT, business, and private practice allow him to synthesize information in a friendly, digestible manner. He also enjoys time with his family, ultimate frisbee, and board gaming.