Full Review
EHRs qualify for a full review if they:
Offer or make available a trial or demo account
Answer questions about their product and related topics (security, HIPAA)
Are focused on the needs of therapist in private practice
Save Time & Money
Save yourself hours of research and avoid the pain of choosing an EHR that is not the best fit for your practice. I can help.
Summary
Pros: Clean Intuitive Interface, Easy to Learn, Fast Development Cycle, Robust Client Portal, Integrated Telehealth
Cons: Lack of full integration of treatment plans and progress notes
Standout Features: User-Friendly Interface, Tight Integration of Features, Integrated Telehealth
It Might Be A Good Choice For Practices That: Practices that want an easy to use application with a growing feature set, and don't have a need for fully integrated treatment plans and progress notes.
UPDATE – Telehealth
I had the opportunity to test the integrated Telehealth features of SimplePractice. I found it to be intuitive, easy to use, at least during the brief time I tested it, of high quality. This feature allows you to readily schedule, connect, and conduct a telehealth session with a client, all within the SimplePractice system.
Review
Since its launch in 2013, SimplePractice quickly became a leading application for solo providers and now they have expanded their feature set to include clinician groups.  They have kept their interface clean and straightforward, while adding significant functionality to support group practices.  In addition to already supporting integrated ERAs, SimplePractice has continued to expand their client portal, including the ability to present custom documents and forms to clients for them to complete online.  Additionally, SimplePractice is expanding the ability for clinicians to indicate their availabilty for specific types of sessions (i.e. intakes only during certain times) within the client portal. With the addition of these features and its mobile app, SimplePractice continues to be a "must consider" application for solo practitioners and now a solid candidate for groups as well.
SimplePractice sports a very clean and fairly intuitive interface.  It offers multiple paths to navigate to different areas of the application which is great for a smooth work flow.  The client screen is an excellent example of the attention paid to ease of access to information.  On this one screen, you are able to easily see contact information, balance due, upcoming appointments, and access previous notes.  Scheduling is easy and clicking on current appointments offers you the option of editing the appointment, entering payments or accessing previous notes  SimplePractice also makes it easy to export your data should you need to. With the addition of group functionality, flexibility has been incorporated so that solo users don't see group functionality that they don't need.
There are still areas that may leave some clinicians wanting, however.  For example, those who need to be able to integrate complex treatment plans with progress notes, may find SimplePractice lacking.  Simple Practice has recently added the ability to create custom forms allowing users to create progress notes and intake forms to their liking.  The only drawback to this new feature is that the notes arent integrated with one another (i.e. Treatment Plan information is not pulled forward into Progress Notes). If past speed of development is any indication, however, these features may soon be as robust as the rest of the program and SimplePractice has continued to add various forms of notes and assessments, which are a welcome addition.
HIPAA-ppropriateness **
HIPAA Compliance Possible? Yes
Caveats: 0
Notes: 4
**What is this? HIPAA-ppropriate information is provided by Person-Centered Tech (PCT). For more details, read here.
 Related News
Similar articles you might be interested in!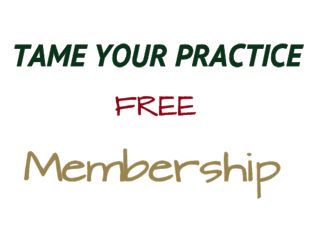 Tame Your Practice membership is free and provides therapists access to exclusive content, discounts, and deals from partners!
read more
Rob has been covering technology and business news for mental health professionals since 2011. His extensive experience in IT, business, and private practice allow him to synthesize information in a friendly, digestible manner. He also enjoys time with his family, ultimate frisbee, and board gaming.