Full Review
EHRs qualify for a full review if they:
Offer or make available a trial or demo account
Answer questions about their product and related topics (security, HIPAA)
Are focused on the needs of therapist in private practice
Save Time & Money
Save yourself hours of research and avoid the pain of choosing an EHR that is not the best fit for your practice. I can help.
Summary
Pros: Attractive User-Friendly Interface, Solid Support, Great Work Flow
Cons: Limited Client Portal
It's a Good Choice For Practices That:  Place great importance on a well-designed, friendly interface, solid support and don't mind waiting for a more fully developed client portal
Standout Features: Work Flow, Feature Integration, & Support
Review
TherapyNotes is a solid contender for those desiring a user-friendly, efficient system and willing to wait for a full-featured Client Portal. In May of 2016. TherapyNotes released the long-awaited auto-posting ERA features making their e-filing feature set complete. They had previously launched their initial client portal offering in March of 2015 with limited client self-scheduling options. Since then, TherapyNotes has begun to integrate intake paperwork, but still hasn't gotten to the point where clients can complete that paperwork online. TherapyNotes hasn't been sitting idle between these updates, however.  Just about every month they release improvements. The trade off with TherapyNotes is that their development cycle for major features is slow, however, the features tend to be rock solid when released.
What TherapyNotes does, it does incredibly well and in style.  It has one of the most polished, user-friendly GUI/UX of any of the platforms and provides incredible time savings through it's smart, intuitive, flexible work flow.  Virtually all functions for a session (Notes, Billing, Changes, Claim Filing, etc.) can be accessed directly from the Appointment itself as well as from the Client area.  It's integrated treatment plan and progress notes are a dream come true for those who want to be able to quickly complete their notes.  Making copious use of time-saving drop downs and check boxes, notes are a breeze.  This comes at the expense of not being able to customize the notes.  However, if a modified SOAP style note works for a practice, TherapyNotes will likely fit the bill. TherapyNotes has also made improvements in their alert system. In addition to notifying users that notes need to be completed, they are also informed when insurance claims need to be filed, when ERAs have been received, and more. Additionally, users are now notified via email when a client schedules an appointment through the client portal. TherapyNotes has also refined their permissions structure, allowing clinicians to have limited billing permissions (like entering co-pays), without gaining access practice-wide reports and other areas.
As with all applications, there are some trade offs.  As mentioned, there is no ability to customize progress and other note templates.  While many templates are provided, users are unable to adjust them in any way.  This serves well to create a very clean and efficient process.  It's important, however, that you make sure the notes meet all of your needs since you won't be able to change their format. Oddly, despite their attention to detail, there are some minor features that continue to be missing in TherapyNotes.  For example, while it allows for tracking insurance authorizations, users must check usage manually.  There are no alerts or reports associated with authorizations so that you can readily attend to clients whose authorized sessions are running out. Finally,TherapyNotes charges a per transaction fee on electronic claims submission and then again on ERA posting.  It's a small fee (reduced from 19 cents to 14 cents in 2015), but that can add up quickly if your practice files a large number of claims each month. They are not alone in charging this additional fee, though there are some systems where claims processing is free, or is only charged one time (instead of at claim submission and ERA posting).
Despite these concerns, TherapyNotes is a top contender for many practices based on their solid, user-friendly implementation, fast development cycle and responsive support.
HIPAA-ppropriateness **
HIPAA Compliance Possible? Yes
Caveats: 1
Notes: 2
**What is this? HIPAA-ppropriate information is provided by Person-Centered Tech (PCT). For more details, read here.
 Related News
Similar articles you might be interested in!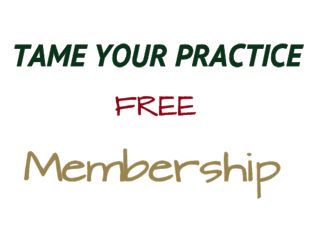 Tame Your Practice membership is free and provides therapists access to exclusive content, discounts, and deals from partners!
read more
Rob has been covering technology and business news for mental health professionals since 2011. His extensive experience in IT, business, and private practice allow him to synthesize information in a friendly, digestible manner. He also enjoys time with his family, ultimate frisbee, and board gaming.