Full Review
EHRs qualify for a full review if they:
Offer or make available a trial or demo account
Answer questions about their product and related topics (security, HIPAA)
Are focused on the needs of therapist in private practice
Save Time & Money
Save yourself hours of research and avoid the pain of choosing an EHR that is not the best fit for your practice. I can help.

Summary
Pros: User-friendly, Easy to Learn.Third Party Ingegrations
Cons: Newer product, No Electronic Insurance Filing
Standout Features: User Interface, Dashboard
It's May Be a Good Choice For Practices That Are: Private Pay practices with basic needs or willing to wait on features.
Review
Considering it just became publicly available in 2016, TherapyZen is already off to a solid start. From the helpful set up wizard to the clean, user-friendly interface, there's a lot to like.
From the get go, TherapyZen feels comfortable as it guides you through setting up an account. The Dashboard provides a nice summary of important information and statistics and the menu is easy to access. There's even a quick menu for accessing "Recently Viewed Clients". Important features like automated appointment reminders and client attachments are implemented. TherapyZen also offers rare integration with third party apps like MailChimp, Quickbooks and Constant Contact. Even this early in their development, they already have credit card integration and the beginnings of a client portal, allowing clients to make appointments and complete intake paperwork.
The features not yet implemented in TherapyZen are significant, however. Primarily, there are currently no electronic insurance claim features, which will rule this out as an option for many practices. Other items that may present an issue are the lack of of support for multiple offices** and the inability to set different services rates for each clinician. Some existing features lack refinement as well. For example, treatment plans and progress notes are not integrated and invoices have to be manually created prior to payments being applied.
It will be interesting to see what 2017 brings for TherapyZen as they ramp up their feature set. They report that they plan to eventually add insurance claim filing features as well as further refine existing features in order to meet the requests of their users. As it stands currently, they may be a good fit for a small private pay practice that just needs the basics and/or is willing to wait for additional features.
**TherapyZen has reported that multi-office support and customizable client portal intake forms have been added in recent months.
 Related News
Similar articles you might be interested in!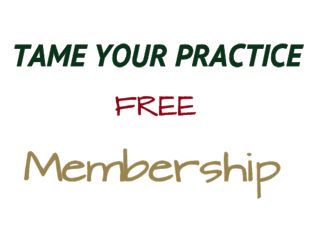 Tame Your Practice membership is free and provides therapists access to exclusive content, discounts, and deals from partners!
read more
Rob has been covering technology and business news for mental health professionals since 2011. His extensive experience in IT, business, and private practice allow him to synthesize information in a friendly, digestible manner. He also enjoys time with his family, ultimate frisbee, and board gaming.