5-Step Guide to Choosing a Best Fit EHR
for your behavioral health solo or group private practice
I've been helping therapists choose "best fit" EHRs since 2010 and have even written the book on the topic. Here's the 5-step process (as well as some free resources) you can follow to help ensure you choose an EHR* that will fit your practice now, and into the future. This same 5-Step process is featured in my book, including guidance, details, and important questions to address when selecting a best fit system.
*aka EMR, Practice Management System
Want to save time and have an expert help you choose the best EHR for your practice?
Click on each section to expand it for details.
CONCEIVE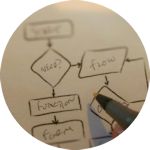 CONCEIVE
There are risks and costs to action. But they are far less than the long range risks of comfortable inaction. -  John F. Kennedy
Before you take action, you have to commit to doing so. Important at this step is understanding not only what you're doing, but you're reasons for doing it. Without this roadmap, you're risking major disaster.  Here are some great options for making sure you know what you don't know and understand your goals for choosing and implementing an EHR:
ASSESS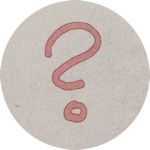 ASSESS
Now that you've decided that an EHR is a good idea for your practice, it's time to perform a Needs Assessment. While it's tempting to choose a practice management system based on one or two specific needs, it's imperative that you are thorough in accounting for all the features you need in a system. Otherwise you risk realizing, after the fact, that you missed something important.
Want some help making sure you cover all the bases?
Article Series on Choosing an EHR - My blog series that lead to the publication of the Guide to Choosing an EHR. It will provide some basic insight into features to consider. Look to the full Guide to Choosing an EHR for more details.
EVALUATE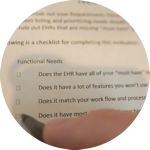 EVALUATE
Now that you know what your needs are, it's time to find out which EHR is the best fit. It's rare to find a solution that meets all of your needs. Your Requirements Document will help you prioritize your needs to make the best choice.  Need some help with this step?:
EHR Reviews - Read my reviews of the EHRs. I've been keeping them updated since 2011.
IMPLEMENT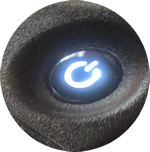 IMPLEMENT
Unlike simple apps for your phone, beginning to use an EHR requires a plan, especially if you already have an active, thriving practice. There are many questions to explore like deciding a start date, when and how to have different clinicians and departments start to use it, how training needs will be addressed and much more. The picture can be even more complicated with larger practices or when moving from one EHR/practice management system to another.
MAINTAIN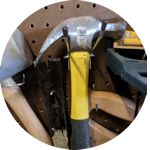 MAINTAIN
Now that the most difficult part is over, you can sit back and relax, right?  Mostly. But you'll need to set aside some of the time you're saving using an integrated EHR to make sure data is being entered accurately, and that you're complying with ethics and HIPAA.  Curious what it takes to maintain an EHR so that it continues to facilitate you reaching your goals?
Get Expert Guidance
Feeling overwhelmed by the entire process?  Just need a helping hand for part of the journey? Here are several ways I can help.

Want to take the DIY approach?  The Guide to Choosing an EHR will guide you through each of the five steps!
Take advantage of my expertise during a one hour phone consultation. I'll take the time to understand your unique needs and help you identify a best fit EHR solution.
Complete my Feature Match Form, designed to capture the unique needs of your practice. I'll send you a written report recommending a best fit EHR and include a 15 minute follow-up phone consultation to answer your questions.